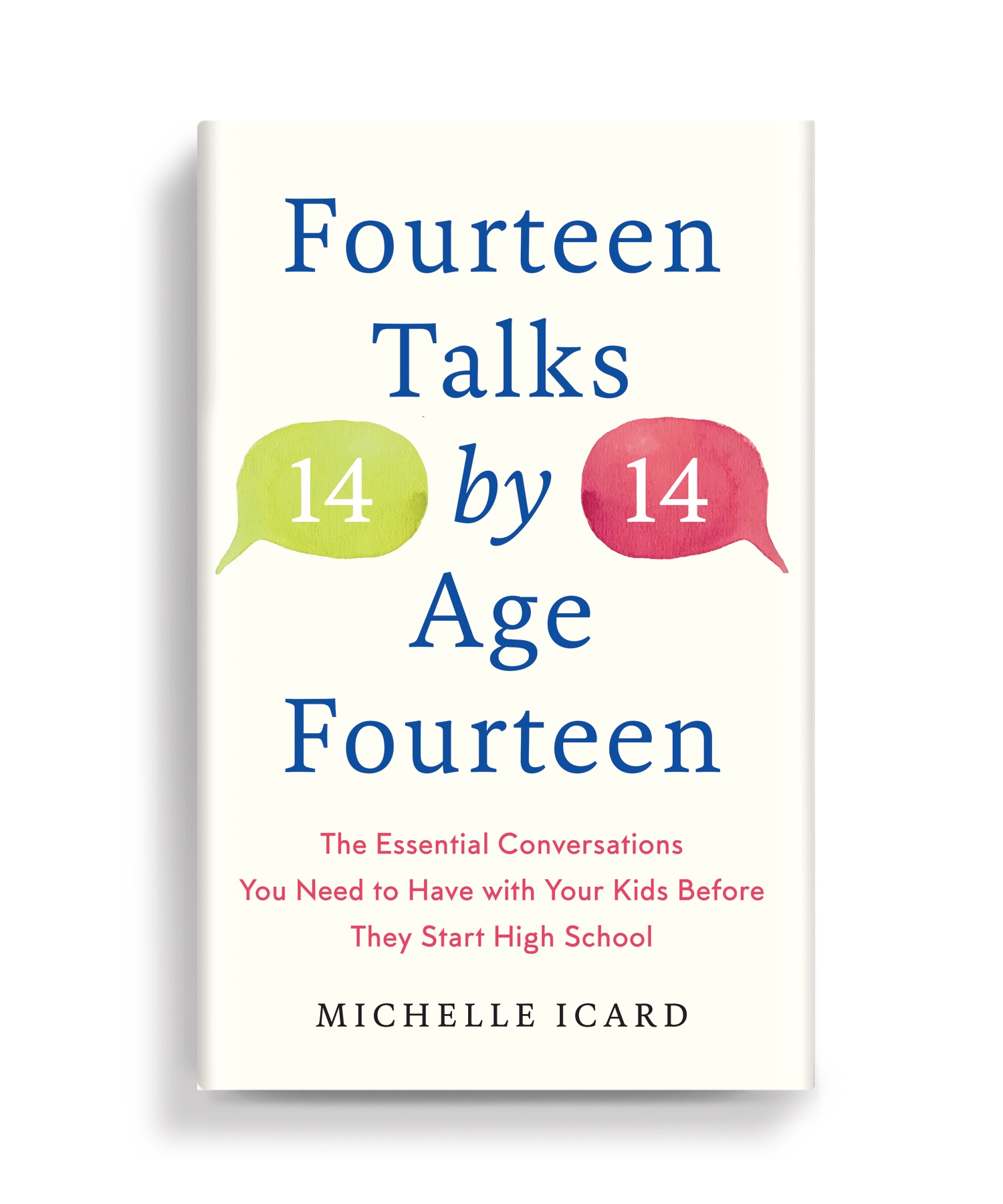 Trying to convince a middle schooler to
listen to you can be exasperating.
Sometimes, it feels like the best option is not to talk! But keeping kids safe - and prepared for all the times when you can't be the angel on their shoulder - is about having the right conversations at the right time. From a brain growth and emotional readiness perspective, there is no better time for this than their tween years, right up to when they enter high school.
This series of interactive modules will feature tips straight from author Michelle Icard, fun/funny games and quizzes, and even unique perspectives directly from teens who have been through middle school and lived to tell about it!
Together with your teen, you'll discuss big, thorny topics such as friendship, sexuality, impulsivity, and technology, as well as unexpected conversations about creativity, hygiene, money, privilege, and contributing to the family. You'll do all this within the simple, memorable, and family-tested formula for the best approach to these essential talks, the "BRIEF" model: Begin peacefully, Relate to your child, Interview to collect information, Echo what you're hearing, and give Feedback. With wit and compassion, Michelle will also help you get over the most common hurdles in taking to tweens, including:
What phrases invite connection and which irritate kids or scare them off?
The best places, times, and situations in which to initiate talks
How to keep kids interested, open, and engaged in conversation
How to exit these chats in a way that keep kids wanting more
Once a month, you'll receive a link to an all-new module based on one of these essential conversations.
About Michelle
Michelle Icard is a member of the Today show parenting team and NBC News Learn. The author of Middle School Makeover, she has had her work featured in the Washington Post, Chicago Tribune, The Christian Science Monitor, Redbook, Time, and People. Her leadership curriculum for middle schoolers, Athena's Path and Hero's Pursuit, have been implemented at schools across the U.S., and her summer camp curriculum is offered at more than 20 camps each summer. She lives with her family in Charlotte, North Carolina.
"Michelle Icard has a true gift for talking to kids and knows all the tricks for avoiding power struggles and shutdowns. If you are struggling to have good conversations with your child, her straightforward, matter-of-fact, and completely authentic approach will help you connect."
Michael Thompson, PhD, coauthor of Raising Cain
"Icard lays out exactly how to start the critical conversations we want to have with our teenage, keep these key discussions going, and steer clear of common missteps that often close down lines of communication. [14 Conversations by 14] is a gift to parents and teenagers alike."
Lisa Damour, PhD, New York Times best-selling author of Untangled and Under Pressure
What to expect when you subscribe!
Thanks for checking out 14 Talks by Age 14! Here's a short video I made to explain what to expect when you subscribe to this series.
Got Questions?
I've been answering questions about the course and how it works every day since the launch so I thought I'd share a few of the questions we've gotten and my answers. After all, if other people have these questions, you might too, right? As always, if you want to ask anything about the course, please don't hesitate to reach out to me directly at [email protected]. In the meantime, here are a few frequently asked questions and answers for you. 
I don't know how to convince my kid to do this with me. I'm sure they'll say no right away. How do I have THAT conversation? 
I understand! The good news is that I'll be sending you some conversations starters before each module is released that will help you "break the ice." In many cases, they'll prompt you to share something fun or funny about your own experience as a tween that will help you connect with your kid and begin the process of opening up lines of communication. If they're still hesitant, you could always try incentivizing the experience by promising them something they want if they'll sit with you for these sessions. I predict they won't be so reluctant once they do one or two of them with you, however!
Do we have to go through the modules together or can I do them on my own? 
Each module is carefully designed to create an experience parents and tweens can have together to strengthen their relationship and focus on the 14 essential conversations I write about in my book. I hope people DO go through them with their kids because they have interactive components that I think everyone will get a lot out of. With that said, I think parents could get a lot from the experience of doing them alone too. You should do what works best for you. 
After I've gone through the module, can I watch/experience it again?
Modules will be available to watch/experience again. I hope parents who enroll will be able to go through them with multiple kids over time. It will be interesting to see how different kids respond to the material and the conversations!
How much time will it take to do each module?
This is somewhat dependent on how long you and your kiddo take during the interactive portions, but we project each module will take between 20 and 30 minutes to complete. 
How many modules are there and how will I gain access to them?
We'll be publishing 14 modules – one for each of the essential conversations I write about in my book – plus some bonus content here and there throughout the year. One module per month will be released, and you'll get an email with a link each time a new one is posted. 
Can my spouse and I both participate with our kid or kids? Can we experience the modules with more than one kid at a time?
You can experience these modules however works best for your family! My only caution is this: the goal here is to facilitate these conversations about topics that can be challenging for families and teens. If you think doing the modules together with a few of your middle school-aged kids would work and that they'd open up with each other present, great! If you think your kid would do better with both parents present, wonderful! But if you think they'd feel safer being candid with just you, I'd advise you to trust your gut there too. 
If I already pre-ordered my book, can I still get 20% off the course enrollment? 
Absolutely! Just show us some proof of purchase (it will need to include a date) and we'll give you a coupon code you can use to get the discounted enrollment price. 
Will I need any special software to experience the modules? Is there a preferred device or operating system? 
We built and posted this series on Teachable, which works well across all major platforms, operating systems, and devices. You don't even need to download an app; the links we send you will bring you directly to the site using your device's browser and you will be able to complete all interactive portions of the modules no matter what you're viewing them on. 
How will the modules be organized? Are they just a series of videos or will there be things for me and my kid to do? 
We designed this series to facilitate conversation. After all, that's what my book is all about! As such, each module will include some video content you'll watch together, some conversation prompts, an interactive and fun quiz or questionnaire, useful downloads you can refer to later, and a wrap-up exercise. We also recorded some conversations with a group of 14 and 15-year-olds who shared their often helpful, always interesting, and occasionally hilarious thoughts on life in middle schooI. I know you'll find their input compelling and I hope your kid will find their perspective comforting and helpful. 
We'll share more frequently asked questions – along with our answers – as we hear them. Remember: you can feel free to ask me any of YOUR questions via email at [email protected].
Please note: we are not able to offer refunds once the course is purchased.